Guest on Podcasts, Radio, & TV Shows
Click on the image on the right to buy Halelly's book, Employee Development on a Shoestring (available in paperback, kindle, and PDF versions from Amazon, ATD, and other major book retailers). Learn more about the book here.
Coaching Connector: High Income Coaching Podcast - What is Though Leadership and How Can You Achieve it with halelly Azulay.
Ian Altman - Same Side Selling Podcast - The Best Way to Build Sales Leaders
Get Published Podcast - Doing Webinars About Your Book
EntreArchitect Podcast - How to Live a More Fulfilling Life by Working From Your Greatest Strengths with Halelly Azulay
More Happy Life Podcast with Andy Proctor: Real Skills for Being Happier at Work with Halelly Azulay
Leaders of Transformation Podcast: How Do You Instill a Healthy Culture of Leadership Development Into Your Organization? with Halelly Azulay
I Am CEO Podcast: Strategist & Expert Helps Develop Leaders People 'Want' to Follow with Halelly Azulay
Admin Partners Blog: The TalentGrow Show is listed in Five Communication Podcasts You Should Listen To
Find Your Dream Job Podcast by Mac's List: How to Network Without the Ick Factor, with Halelly Azulay
Career Blast Podcast: Strength to Strength with Halelly Azulay
EntreArchitect Podcast: How to Build a Powerful Network that Works Without Feeling Icky with Halelly Azulay
Training Unleashed Podcast: "Abolishing the Wall Between You and the Learner" with Halelly Azulay
The Business Owner's Toolbox "Coffee Break" Podcast: "Are You Fulfilled?" with Halelly Azulay

Snap Synapse: The TalentGrow Show is listed in The Ultimate L & D Podcast Guide for 2018
Dr. Jason Brooks Leadership Podcast: Authentic Networking Without the 'ick' factor with Halelly Azulay
Simple Self Mastery Podcast: Episode: 041 - "How to Be a Leader Others Want to Follow" with Halelly Azulay
Self-Talk Radio Show: Episode: 54 - "Boss Talk" with Halelly Azulay
Breakthrough Success Podcast by Marc Guberti: Employee Development on a Shoestring with Halelly Azulay
Lead Like You Give a Damn Podcast: Halelly Azulay and the Key to Effective Communication
Entrepreneur on Fire podcast with John Lee Dumas: Engaging Communication and Authentic Networking (without the 'Ick' Factor!) with Halelly Azulay
Poems For People Who Hate Poetry Podcast: Invictus by Henley - with Guest Halelly Azulay
Business Confidential Radio: Effective Employee Development Made Easy and Affordable
Association for Talent Development (ATD): How Are Your Consulting Skills
Entrepreneur in Motion Podcast: Developing leadership and management skills – with Halelly Azulay
Twelve Minute Convos Podcast by Engel Jones: Twelve Minute Convo with Halelly Azulay
Business Writers Radio Podcast: Halelly Azulay Author of Employee Development on a Shoestring
Earbud U Podcast: Season Four, Episode 4 - Halelly Azulay
Association for Talent Development (ATD): Q&A with Halelly Azulay: Essential Skills for the L&D Professional
NewsChannel8: Halelly Azulay is interviewed on ABC affiliate NewsChannel8's "Let's Talk Live" where she shared "The 3 Keys to Communication Success"
Inspiration At Work's Blogtalk Radio show: Interview with Halelly Azulay
TV: Interviewed by Sheila Savar on the power of networking and the benefits of getting involved with a professional association. Filmed in April 2008 and first aired in June 2008 on Fairfax Public Access, Fairfax, VA, USA. Part 1 and Part 2. See my post on it here.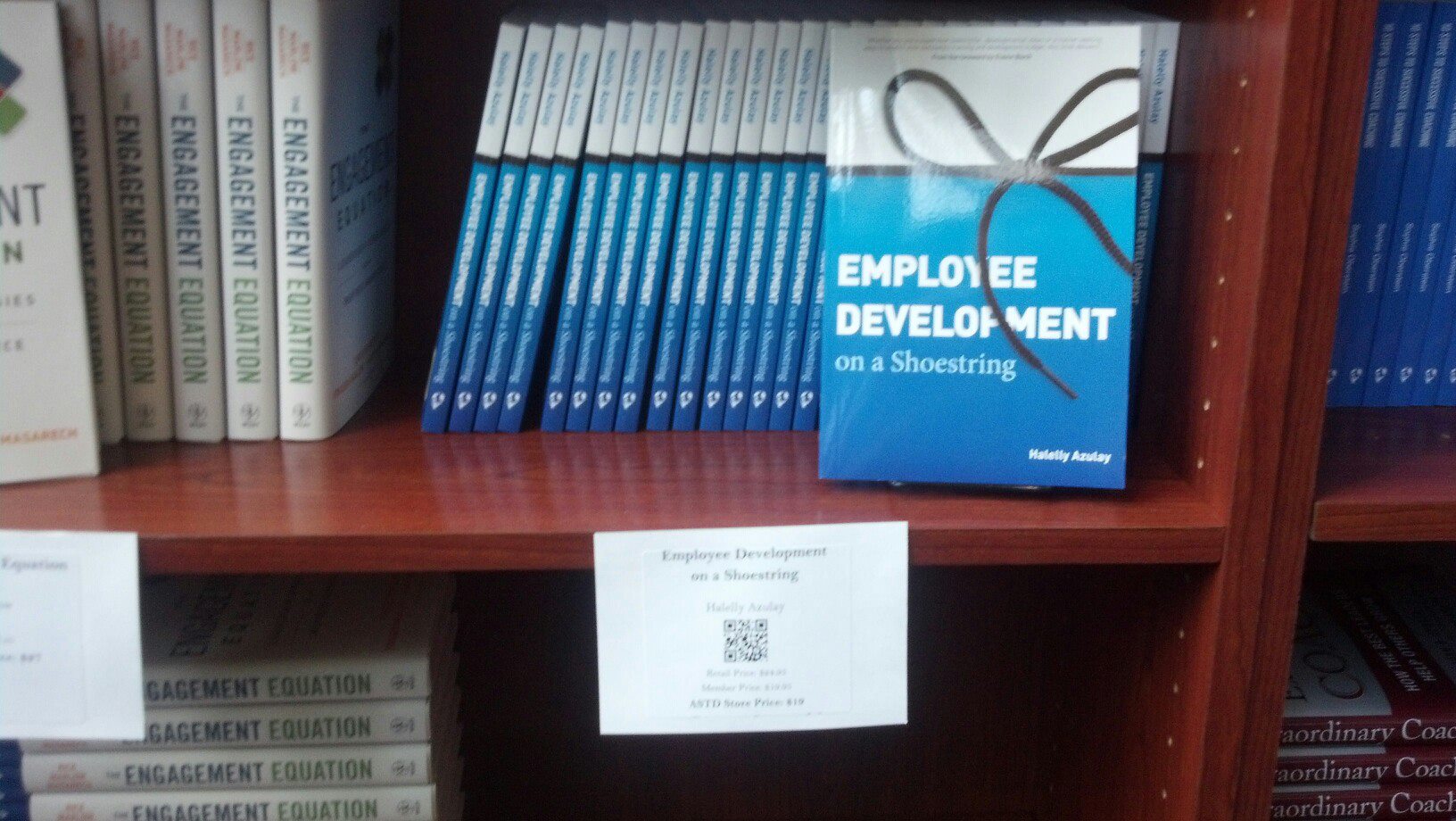 Halelly Azulay contributes to media requests for comments and tips in popular blogs and articles as well as sections in books published by other authors or edited collections. She is sought after for her knowledge and insights about leadership, communication, networking, and emotional intelligence. Click to see the list with links.